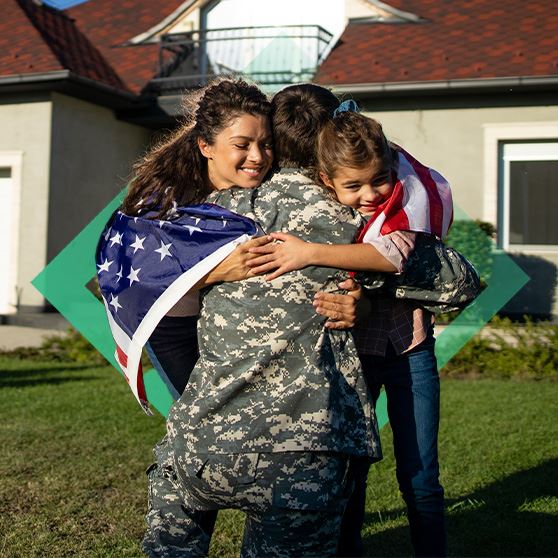 Veteran Disability
Lawyer's Serving Georgia's Disabled
If you or someone you love is a veteran who suffered a disabling injury, illness, or medical condition while serving in the U.S. military, reach out to Affleck & Gordon to learn more about applying for and receiving VA disability benefits.
Georgia Veterans' Disability Attorneys
Fighting for Disability Compensation Pay for Veterans for 45+ Years
U.S. military servicemembers put their lives on the line for our country. Unfortunately, many become severely injured or disabled while on active duty. Others have preexisting conditions worsened due to the nature of their service.
To help support U.S. veterans who have become injured, ill, or disabled while serving in the military, the federal government established the VA disability compensation pay program.
Based in Georgia, we are one of the leading VA disability law firms in the state—and the nation. Our attorneys have earned a reputation for providing clients with a high level of personal attention, support, and care throughout the legal process.
We have built our practice on a foundation of honesty, integrity, and trust, and we are proud to assist those who have dedicated their lives to serving and protecting all Americans.
---
For a complimentary consultation, call our office at (404) 990-3945 or contact us online.
---
You Deserve Dedicated Representation At Affleck & Gordon, we are committed to providing the highest possible legal counsel. We return calls promptly, keep you up to date on your case, and will always be there for you. We do not rest until you get what you deserve.

You Deserve Experienced Counsel With over 45 years of experience and tens of thousands of individuals helped, our team has the skill, resources, and determination to aggressively and strategically evaluate, understand and fight your claim.

You Deserve a Thorough Team The Affleck & Gordon team is not only committed to your case, but we are committed to you. We understand that this is your life and your future, and will diligently do everything on our end to obtain a favorable decision on your behalf.

You Deserve Financial Security Your case is important to you, and it's important to us. It represents how you will or will not be able to take care of your basic needs, as well as those of your family, for the foreseeable future. We are committed to fighting for what you deserve.
What Are VA Disability Benefits?
VA disability benefits are monetary funds provided by Veterans' Affairs (VA) to veterans who have sustained service-related injuries, illnesses, disabilities, and medical conditions. These benefits are tax-free and are provided on a monthly basis.
In addition to disability benefits, VA provides a range of services to veterans, including:
Housing assistance, including Specially Adapted Housing (SAH) and Special Housing Adaptation (SHA) grants
Tax-free pensions for low-income wartime veterans
Fiduciary services
Assisted living, nursing home placement, and at-home health care
Education assistance
Employment assistance through the Veteran Readiness and Employment (VR&E) program
Aid and attendance benefits
Housebound allowances
The purpose of VA disability benefits, specifically, is to provide cash to disabled veterans to assist with basic needs, such as food, housing, shelter, clothing, etc. While you must have a qualifying disability to receive VA disability benefits, this is not the case for many of the additional benefits and services listed above.
Who Is Eligible for VA Disability?
To be eligible for VA disability benefits, you must meet both of the following requirements:
You are a veteran of the U.S. military and served on active duty, active duty for training, or inactive duty for training
You have a medical condition, such as an illness or injury, that affects your physical and/or mental health to the point of being disabling
In addition to these two requirements, you must also meet at least one of the following criteria:
You were injured or became ill while serving in the military and as a result of your service
You had a preexisting injury or illness that was worsened by your military service
You have a disability related to your military service that appeared after your service ended
An injury, illness, or medical condition is automatically presumed to be a disability if it is chronic and appears within one year after the individual was honorably discharged from the military.
Medical conditions are also presumed to be disabilities if they are caused by exposure to hazardous substances or materials, or if they result from time spent as a prisoner of war (POW). VA disability benefits cover both veterans and certain qualified dependents.
If an individual was dishonorably discharged, they may not qualify for VA disability benefits (with some exceptions). For more information, contact our VA disability lawyers at Affleck & Gordon and request a free consultation with a member of our team.
Types of Conditions Covered by VA Disability
VA disability benefits are provided for a wide range of chronic physical and mental health conditions.
Some examples of common conditions covered by VA disability include:
Respiratory illnesses
Hearing damage or loss
Cancer
Chronic back pain
Lung disease
Ulcers
Reduced range of motion
Scarring and disfigurement
Traumatic brain injuries
Cognitive impairment
Depression
Anxiety
Post-traumatic stress disorder (PTSD)
This is not an exhaustive list. If you are unsure whether your condition qualifies for VA disability benefits, we invite you to reach out to our firm today to learn more during a no-cost, no-obligation consultation. We can provide information specific to your case.
The VA Disability Process
The VA disability process can be broken down into the following steps:
Filing the Claim: After determining that you are eligible for VA disability benefits, the first step in the process is filing your initial claim. It is highly recommended that you submit a "fully developed claim," rather than a standard claim, as the VA will typically decide on your case faster if you file a fully developed claim online.
Veteran Service Representative (VSR) Review: Once you have submitted your claim, a VSR assigned to your case will review your claim. You may be required to submit additional evidence to support your claim at this point. The initial VSR review typically takes anywhere from 7 to 21 business days.
Compensation and Pension (C&P) Examination: The VSR will begin gathering evidence, which may include scheduling a C&P exam on your behalf. During this exam, the medical provider will review your health records and other information regarding your military service. The point of this exam is to determine whether your medical condition is related to your service.
Evidence Review: Once the VSR has obtained enough evidence, including the results of your C&P exam and other medical records, they will review everything provided before preparing your claim for a decision. During the review, the VSR may find that further evidence and/or information is needed.
Ratings Veterans' Service Representative (RSVR) Review: After all of the evidence has been reviewed, the VSR will send your claim to an RSVR assigned to your case. The RSVR will then review all of the evidence, medical records, and other information involved in your case. Then, they will recommend a decision and prepare an explanation.
Pending Decision Approval or Denial: The RSVR's decision on your case is considered "pending" until it is reviewed. Once the decision is reviewed, it will either be approved or denied. If denied, the decision may be sent back for further review. If approved, a final award approval is made on your claim and your case will proceed to the next step.
Senior Veterans' Service Representative (SVSR) Review: Finally, an SVSR will review the evidence, information, and documents related to your claim before authorizing an award letter, as well as your VA disability payment. The SVSR will prepare your claim decision packet and mailed to you. This process takes about 7 to 14 business days.
Our team can assist you at every stage of the VA disability process. Whether you need help preparing your initial claim, gathering and submitting requested evidence, or appealing a denied claim, our VA disability attorneys have the knowledge, resources, and experience to effectively advocate for you.
How to Apply for VA Disability Compensation Pay
There are three ways to apply for VA disability:
Filing online is recommended, as this typically results in the fastest decision on your claim. It is also advised that you work with an experienced attorney, like those at Affleck & Gordon, when filing for VA disability benefits.
An attorney from our firm can review your application and help you gather the required evidence and information before submitting your claim. Our goal is to help you avoid any mistakes that could jeopardize your claim and your benefits.
---
Don't wait to get started on your case. Call our office at (404) 990-3945 or contact our experienced team online.
---
Have Questions?
We Are Committed to Providing You Answers & Solutions
Are VA disability benefits taxable?

No, VA disability benefits are tax-free. You do not have to pay taxes on your VA disability benefits or any portion of such benefits.

Can a family member receive VA benefits?

Sometimes, certain dependents are eligible for VA benefits. Most often, this is the case when a dependent lives with a veteran, and the veteran is unable to support the dependent financially. Surviving dependents and other family members of veterans who pass away may also be eligible for certain VA benefits, such as death compensation, death pension benefits, and more.

Can I work and still receive VA disability benefits?

As long as you are not receiving "Total Disability Based on Individual Unemployability," or TDIU, you can work and earn an income without any impact on your VA disability benefits. You are also permitted to work while you are applying for benefits and/or appealing a denied claim. If you are receiving TDIU, you are not permitted to obtain "substantial gainful employment," or SGA. In other words, if you work while receiving TDIU, you could lose those benefits.

What is the VA five-year rule?

The VA five-year rule refers to a rule that prohibits Veterans' Affairs (VA) from reducing a veteran's impairment rating when the current impairment rating has remained the same for at least five years. The only exception is in cases where there is substantial, continual improvement of the veteran's condition over time.

Can you receive VA disability benefits for the rest of your life?

When determining the amount and duration of VA disability benefits, Veterans' Affairs assigns a claimant an impairment, or disability, rating. Veterans who are assigned an impairment rating of 100% are considered completely disabled. As such, they may also receive a "permanent and total disability" designation. When this occurs, the veteran will be eligible for VA disability benefits for the remainder of their life.
Honorable people!

"Took care of me from day one. Knowledgeable in all areas they specialize in. Most importantly they treated me with the utmost respect. Affleck & Gordon moved me from a very difficult situation I couldn't get through on my own."

Douglas W.

Affleck & Gordon won my case!

"I filed for SSDI and had to appeal, so I hired Affleck & Gordon. The attorneys talked to me with the utmost respect and treated me like I was actually someone, not just a number."

R. Duff

I could not be more grateful to the team at Affleck & Gordon.

"I would like to thank Affleck & Gordon for representing me in my SSDI case. They are professional and caring and were always available when I had questions and concerns. Even during a pandemic, they got the job done for me."

T. Curtis
If your VA disability claim was denied, you have the right to appeal this decision.
You have three options when it comes to appealing a VA disability claim that was denied on or after February 19, 2019:
Supplemental Claim: By requesting a supplemental claim, you have the opportunity to provide additional and/or new evidence relevant to your case. Once you have submitted this evidence, a reviewer assigned to your case will determine whether or not the new evidence changes the initial decision made on your claim. It can take anywhere from four to five months for the VA to decide on your supplemental claim, so it is important that you act quickly if you choose this option. There is no deadline for requesting a supplemental claim, but it is strongly recommended that you do so within one year of receiving notice that your VA disability claim was denied.
Higher-Level Review: If your VA disability claim was denied, and you do not agree with this decision, you can request a review of your case by a higher-level reviewer. The senior reviewer will consider your claim and determine whether an error was made or whether there is a difference in opinion that changes the outcome of your case. You have one year from the date on which you received your decision letter informing you that your claim was denied to request a higher-level review.
Board Appeal: If your VA disability claim was denied, you may request an appeal before the Board of Veterans' Appeals (BVA) in Washington, D.C. This appeal will be held before a Veterans' Law Judge (VLJ), who will carefully review your claim and determine whether an error was made or if a difference in opinion warrants a new decision on your case. Unless your claim is contested, you have one year from the date of receiving your claim denial letter to request a BVA appeal. You may not request two subsequent BVA appeals for the same denied claim.
Affleck & Gordon can help you review your options if your VA disability claim was denied. Our attorneys offer highly personalized counsel and are here to answer any questions you may have about the appeals process.
---
Don't wait to get started on your case. Call our office at (404) 990-3945 or contact our experienced team online.
---
How the VA Disability Attorneys at Affleck & Gordon Can Help
For more than 45 years, Affleck & Gordon has been an advocate for injured and disabled veterans in Georgia and nationwide. We are one of the leading VA disability law firms in the country and have a long, proven track record of success in this area of law.
As your legal counsel, we will be there to guide you through the entire process from start to finish. Our team knows how to advocate for you and protect your rights. We want to make sure you always feel confident having us by your side.
Our VA disability attorneys prioritize prompt communication and provide frequent case updates so that you always know what's happening with your claim. Most importantly, we want to win your case. We are prepared to do everything possible to help you secure the benefits you are owed so that you can focus on moving forward with your life.
Let Us Protect Your Financial Security
Put Over 45 Years of Experience on Your Side